From the "Highly Technical and Esoteric" Dept.
Okay guys, you've been warned.
For the past few days, I've been using a most wondrous shareware app.
It's a called LaunchBar, and it's only for Mac OS 10.1.
What does it do?
It eliminates most of the mousing that I have to do on my iBook.
How does it work?
Well, it is so simple—brilliant actually—All I have to do is type press two keys on my keyboard (the command key + spacebar) at the same time, and type the name or the document, URL, application, or folder that I want open or switch to.
It doesn't sound very impressive, but it eliminates two of the major bottlenecks in OS 10.1:
too much mousing, and
a poor application switching model.
One of the most impressive things about LaunchBar is that it lists possible objects as you type. The more you type, the closer you get to your intended goal (application, URL, Document, Folder). It also uses some sort of fuzzy logic to determine abbreviations and misspelled words as you type. The best part, is that i it remembers what you've type becoming more accurate the longer you use it (I'm not too sure on that point, I think it's partly user induced).
For example, if I wanted to open Photoshop 7, I would open LaunchBar, and type "psh", and I would get the following dropdown list: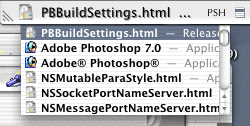 I can refine the results by adding a 7 to it, to make "psh7", I'd get the correct application.

It works for the following entries as well:
I love this program!
Well, only as much as you can love technology. So, don't worry Jen, technology will never be able to compete with you for affections.
I'll probably keep using MaxMenus, simply because it does Fitt's Law properly.
Life is good. I can use my iBook without the incessant mousing.
Things must be turning around.
Cheers,
Tai